The reviews continue...aren't you excited?!?
Her
Quite honestly a gut-wrenching script filled with a tremendous amount of dialogue--you'll feel a bit drained after sitting through it. However, this is oh-so-poignant for today's day in age, and therefore, a must-see. And gosh, Joaquin Phoenix is always spectacular, isn't he?
About Time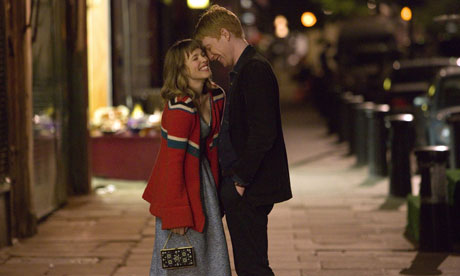 A strong beginning (with delightful British humor in the mix), but got a little choppy towards the middle/end. I'm not sure the time travel had enough consequences; or maybe I'm just more of a believer of Donnie Darko's time travel experience. Even still, there are some sweet (sometimes cliche) moments in the film that make you appreciate life; furthermore, there were some amazing shots of London!
Catching Fire
Better than the first Hunger Games. Very gripping from start to finish, especially for someone who hasn't read the books. If you like watching movies about revolutions in dystopian societies, this movie is for you--FIGHT THE POWER!
TiMER
In my Top 10 list and a fantastic commentary on our culture's obsession with marriage and the "ticking clock." Cheeky futuristic fun, but also profound in its overall message. I love movies that think outside the box when it comes to romance.